Healing visualization and Ketogenic Plant-Based Coaching- Create a youthful body and vibrant lifestyle through low carb eating, easy movement, and a positive outlook. Get motivated and inspired to be your best.
Drop into one of Pure Joy Planet's 30-Day Plant Keto Lovecamp weekly video coaching sessions and be a part of our healthy lovecamp community.
---
What We Covered In Our Week 1 Group Coaching Session:
Elaina offers a 3-minute grounding meditation to begin each coaching session.
Elaina, Katelyn, and Kyndle introduce the course and talk about what you will get out of eating a ketogenic, plant-based diet for 1 month.
Movement Classes with Kyndle how 7 minutes of yoga a day can change your life
Food Prep Tips with Kate and Elaina: Let go of the stress when it comes to meal prepping. We are here to help ease you into this new lifestyle by making food prep joyful. We suggest making large batches (triple) and do it on Sundays and 1 evening a week to do your food prep.
How you can support each other during your month of doing a ketogenic online course.
Your higher self already knows what you need. The energy will start to shift within you once you make a commitment to start feeding yourself better and taking care of yourself. Trust the process, trust yourself. This food will become your friend and your ally and so will we!
Pure Joy Planet Way: We do not adhere to any Dogma! We are here to meet you where you are at. Don't worry about being "perfect". We've got your back.
How the recipe books work: You get a recipe book with photos and a shopping list every month. All the macros (Protein, Carbs, and Fat) are counted for you so you don't have to worry about it. Don't feel like you have to eat every recipe every day. If you just want to eat 1 or 2 meals a day, and you aren't as hungry, go with it. If at first, you need more snacks, that's okay too. If you aren't hungry you don't have to eat.
Elaina talks about how when she started Vegan Keto she only ate 20 carbs a day and then needed to increase it to 30-50 net carbs a day so she could sleep better.
Suggested App: The Cronometer- helps you track your supplements and macros so you can see what you are eating and what your macros are.
Why fiber is essential in your diet. Why Fat is important to help with the sugar cravings.
If you are craving sugar, just add in more fat like homemade chocolate and fat bomb recipes found in your recipe books
Why we have eliminated grains in this program. We talk about what we put in our grain-free bread. It's the vegan Keto bread and it's amazing!
What to expect: Start feeling more energized, alive and wake up ready for your day. Hormone balancing, reduce more hot flashes or night sweats. These foods are designed to be low inflammatory and to balance your hormones.
How to avoid the Keto flu. Add mineral salt into your water. Avoid Morton's salt (white table salt), use Hi-Lyte supplement to avoid keto flu and muscle cramping.
Erythritol: Use in moderation so you can balance out your sweet tooth, and avoid bloating.
We just encourage you to get off of sugar. We no longer promote xylitol as it's too gas and bloating promoting.
Student Q&A: is maca okay for a 68-year-old woman?
Should you drink with meals or avoid drinking with your food?
When is it good to fast and when should you carb up (before or after fasting)?
Should you worry about eating psyllium and it's cleansing effects?
What does baking soda do? It helps alkalize the system (the kidneys) eliminates bloating and gas. ½ tsp with water on an empty stomach is a good way to do it.
How to intermittent fast: Water vs. juice? How to drink a Celery lemonade
Katelyn also talks about how the low carb keto lifestyle has helped her heal her from her autoimmune disease and has completely changed her life. This lifestyle is not only for menopausal women, but it's also for women in their 20s who are going through PMS, PCOS, infertility and more.
What happens when you change your diet?
Your palate may change! Once you start eating this way you will begin to love it even though you may not love the green juice or green smoothies at the beginning you will crave it by the end. We suggest using a bit of stevia to boost the sweetness if you aren't used to some of the flavors.
We've discovered that many of our clients no longer want to eat sweet foods after they've have trained their palates to enjoy less sweet foods. Soon when they go to parties or eat something like a piece of cake, muffins, etc. they will seem way too sweet to them. We encourage a food journal and an emotional journal. How are you feeling after eating? How are you feeling when you go off the rails?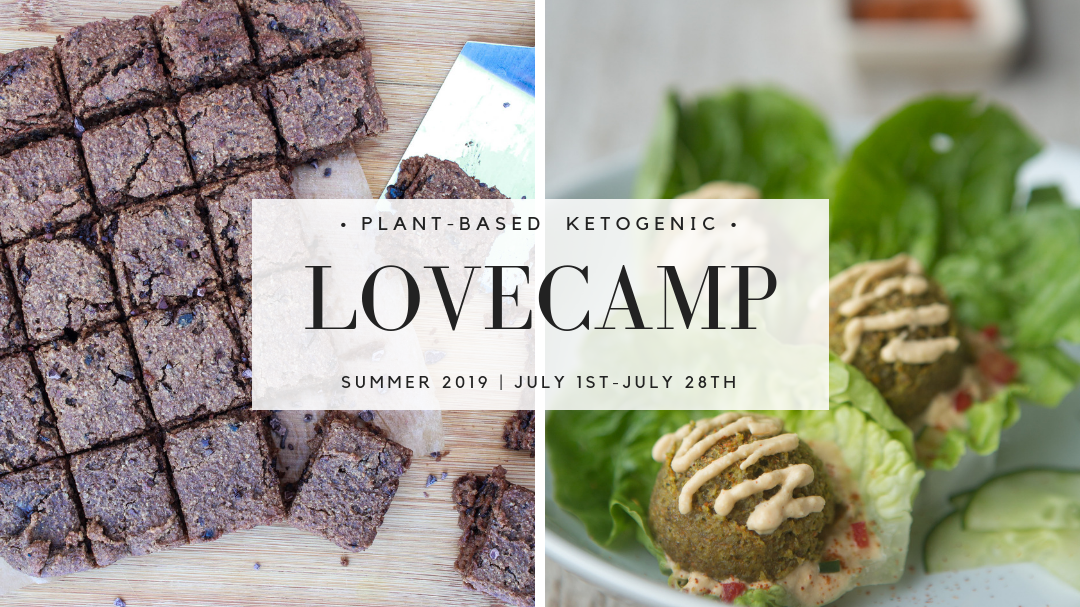 Click HERE to learn more about our Summer Plant-Keto Lovecamp Program <—- Join the group

---
ELAINA'S INFO:
---
KATELYN'S INFO

If you like this episode and want to hear more, please head to iTunes, subscribe, rate, and review this podcast. If you'd like us to explore more on any of the topics above, right to us! We'd love to hear from you. Subscribe here: http://bit.ly/purejoypodcast
---
RESOURCES
💖 Web – https://purejoyplanet.com/
💖 Pure Joy Podcast Podcast – http://bit.ly/purejoypodcast
💖 Recipes – https://purejoyplanet.com/recipes
💖 Online Superfood & Health Store –https://store.purejoyplanet.com/
💖 Join our Plant-Keto Lovecamp –https://online.purejoyplanet.com/p/vegan-keto-diet-program-anytime
---
GET IN TOUCH
💖 Instagram – https://www.instagram.com/rawchefelainalove/
💖 Twitter – https://twitter.com/ElainaLove
💖 Facebook –https://www.facebook.com/PureJoyAcademy/
Do you have questions, thoughts or feedback for us? Leave your comments below and one of us will reply! If you'd like to support the show's message, please like rate and review on iTunes or wherever you love to listen to podcasts. Subscribe here: http://bit.ly/purejoypodcast
Related Posts
Why are we so Triggered? Techniques to Regain your Footing, be in … …
6 Minute Meditation with Elaina| Full Body Healing Listen Here: https://purejoyplanet.com/wp-content/uploads/2020/08/Silver-River-Chakra-Meditation-and-Body-Healing.mp3 When … …
Knowing that you are Enough. How to stop blame, shame, and guilt … …
Recent Recipes